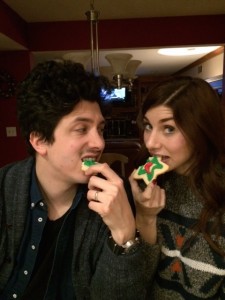 This tradition started out innocently enough.  For years I made cutout Christmas shortbread cookies in the shapes of stars, candy canes, and Gingerbread men, all decorated with the greatest of care with icing, sprinkles, and shiny silver sugar pellets.  In short, they were beautiful little works of art – almost too pretty to eat, but that never stopped us from eating several.
My kids loved helping with the decorations and took pride in creating cookies they were proud to display on Christmas Eve.  Along with other holiday baking traditions, these cookies were a part of the annual ritual for decades.
Then, when my son was about 25 and my daughter was about 22, the tradition changed.  I remember that my son was anxious to eat one of the cookies and didn't want to waste time making something he was going to eat right away ("really stupid," right?), so he grabbed the tube of icing and just "goobered" the heck out of his cookie.  It looked a little messy, but it still tasted great and we all had a good laugh.  A new tradition was born.
Now I just bake the cookies and freeze them for my kids' holiday visits.  They grab the red and green tubes of store bought (not healthy!) icing and just squirt it on recklessly.  No one seems to miss the artistry.
Holiday traditions are most special when they are yours alone.  Goober cookies are a personal family treasure for us.  What are the traditions that make you smile?