I can see myself doing it.  I'm procrastinating again!  I have a work project I had intended to work on today, but I keep getting up from my desk.  "Just a little snack . . . a couple of nuts . . . then back to work."
Who am I fooling?!  I'm just not going to finish this project right now, so I may as well do something else.  I am a disciplined person.  I like setting deadlines for myself, planning out my work, keeping on target.  So why would I advocate just quitting for now?
The simple answer is that I AM quitting right now.  I can either embrace it, OWN it, lose the guilt, and do something else (productive or just plain recreational), OR I can keep pretending I'm working on my project and keep drifting into the kitchen for that little "something" to give the illusion of taking a needed break.
I'm not hungry!  I don't need to eat, so why do I do this, as so many of us do?  I think it is because eating in small little spurts like that is "really not much of a break" and "It's not like I'm sprawled out on the couch watching soap operas or anything!"  In short, I am justifying.
When I hear myself doing this, I laugh.  It really is ridiculous, don't you agree?  We are the masters of fooling ourselves, especially when it comes to eating.
I can usually spot this pattern quickly, now that I recognize it for what it is.  This has taken lots and LOTS of practice.  I now find that admitting to what I'm doing is the beginning of the way out of the habit.  Then I can decide if it is realistic to expect myself to buckle down and do my project now, or lose the guilt and do something else.
Sometimes just stepping away, even when a deadline is looming, allows my head to clear.  Then, magically, creative thoughts start flowing and I'm engrossed in my endeavor – and loving it!
To be able to say, "Yes, I am procrastinating, and while I'm at it, I intend to do an incredible job of it!" eliminates the guilt surrounding it.   A psychologist friend recently told me that guilt is an emotion that has absolutely no positive side to it.  I believe it usually just drives procrastinators into deeper pits of paralysis, which leads many of us to munch on food we don't really need or want.
How many unnecessary calories do you think you consume while procrastinating?  Hundreds?  Thousands?  It's hard to really know, because procrastination is often so mindless.
My phone app (In the Moment – Mindful Eating) addresses this issue, so it may help the procrastinator in you to be more self-compassionate during these times.  Here is a screen shot that gives a glimpse.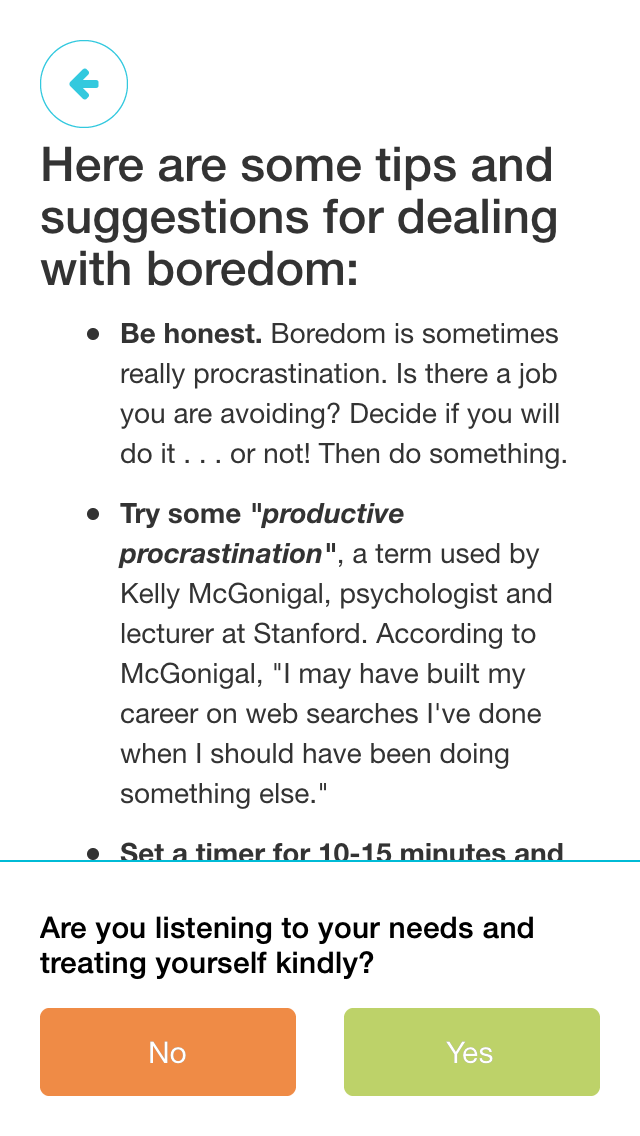 Ahhh, now I feel better.  This post is a perfect example of productive procrastination.  Now I think I can go back to work on my project – refreshed.