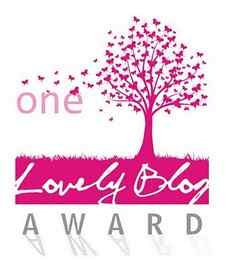 It is always nice to be recognized for the work we do!  I was nominated by haijin amin for the One Lovely Blog Award.  Rules are that I must tell 7 things about myself and nominate 15 others, so here goes:
Things about me you may not know:
1.  I worked on the 88th floor of the World Trade Center for a short while.
2.  I have two children and 3 step-children.  All are grown – between the ages of 24 and 30.
3.  I travel to both coasts to visit my two – in New York and Seattle.
4.  I love dogs and people with interesting lives they are willing to share.
5.  I am an introvert by nature, but I can play the role of an extrovert when necessary.
6.  I enjoy playing the piano.
7.  I was a synchronized swimmer in high school and college.
8.  I am known to sometimes "bend" rules.  (Example:  I am listing only 10 nominees below – sorry.)
Here are my nominees:
ido lanuel, andrew's mile,  doodle dad, unorthodox epicure, clotildajamcracker, lifeyum, L-Jay Health, Patrick Latter, luvnorcal, madamecroqette.