Do I have your attention now?  If the U.S. supply of chocolate became scarce – which it is not – do you think you would crave it more?  If it were available only for a limited time – say, the 15th of March was the only day you could eat it – would you spend the day stuffing  yourself full of whatever chocolate you could get your hands on?
This sounds ridiculous, since of course we know that chocolate is not only available, it is abundant and ubiquitous.  It is likely that many of you even have opportunities every day to eat free chocolate, since so many work stations generously share chocolate or other treats with the entire office.  How thoughtful!
Food scarcity is usually not a real issue for most Americans.  In fact, it could be argued that ads for all kinds of tempting treats are constantly testing the limits of our will power.  In the midst of everyday stress, many people feel they are missing something if they don't take part in the "food as fun" mentality, which is what so many food manufacturers are really peddling.
So . . . even though we would agree that food is not scarce, I see and hear evidence of feelings of scarcity in the struggles of many dieters.  Food scarcity in our country is more often a feeling than an actual reality.  The problem for people's health is that feelings drive behaviors.
When a black and white thinking dieter allows a small deviation from expectations, the flood gates often open.  They essentially have created their own "limited time only" window, after which they vow to return to their rigid ways.  This is a mind-generated scarcity, not anything based on actual availability.
I really wanted pumpkin pie yesterday.  Yes, in May!  Isn't pumpkin pie one of those foods we overeat at Thanksgiving dinner, supported by the belief that the third Thursday in November is the only time we can have it?  But, hey, I can make it any time of year – what a revelation!  The urgency to overeat based on scarcity just isn't there now that canned pumpkin is on the grocery shelves all year round.
I hear countless stories like this, usually around holiday time.  "I can only eat my Aunt Lenore's cheesy potato casserole when we go to her house for the holidays."
"Well," I question, "Isn't it possible for you to make her casserole any time you want?"  Of course the answer is yes.  If you truly think there is something you can only get once a year, I would love to hear your argument.  Let's challenge the scarcity feeling!  I see lots of people struggling with food issues, but actual scarcity of food is almost never the issue.
Thoughts drive feelings, and feelings drive behavior.  Eliminating the scarcity argument may not solve all of your eating issues, but it can get rid of one of the faulty reasons for overeating that continues to glide side by side with dieting mentality.  After all, isn't strict dieting just a way of creating a sense of scarcity where it really does not exist?
Here's my pie crust recipe – from a 1979 edition of Family Circle magazine.  I adapted it by replacing vegetable shortening with butter to cut out the trans fats.  Honestly, it takes me 10 minutes to make it, including rolling and forming.  I just toss everything in my food processor and it forms a nice ball, ready to roll out.  Why would anyone buy a frozen crust?  Homemade is SO much better.
Flaky Butter Pastry
1-1/2 cups all purpose flour
1/2 tsp. salt
1/2 tsp. sugar
1/2 cup butter, not softened
3 to 4 Tbsp. cold water
1.  Combine flour, salt, and sugar in a food processor bowl with metal blade attachment.  Process to lightly mix.  Add butter, cut in several pieces.  Process to consistency of coarse meal.
2.  Slowly add water while processing until dough begins to form a ball.  Remove dough ball and roll out to 12-inch round.  Fit into a 9-inch pie plate.  Pinch and flute the edge.
3.  Prick pastry all over with a fork.  Fill and bake according to individual pie recipe.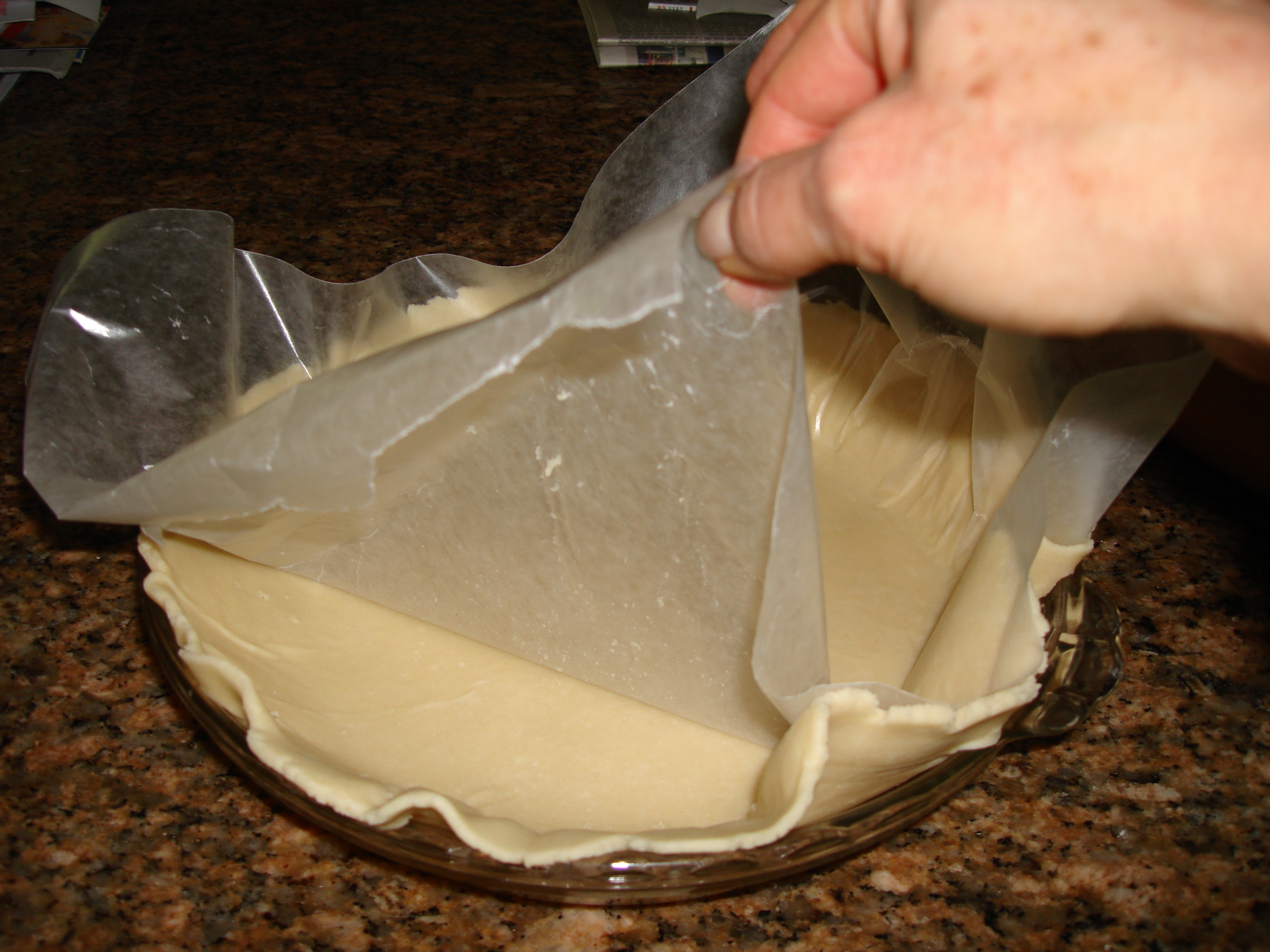 I like to roll it between two pieces of wax paper, because that makes it easy to get in the pie pan.  Just take the top layer off after rolling out the dough, pick up the dough with the bottom layer and place it (paper side up) in the pan.  Remove the wax paper before filling.
For the filling, I have never found anything better than the Libby's pumpkin pie recipe that has been around forever.  Now, since today is Mother's Day, I'm heading to my mom's house to take her a piece of homemade pumpkin pie and some spring flowers – at least one of the gifts is seasonal!